Affiliated with ( Training Partner of ) – FOSTAC ( Training and Certification of FSSAI )
Associated with –
Course Offered FSSAI/FOSTAC Certificate –
Basic level certification are meant for food business. Duration of each course is of 4 hours. Course are: –
(1) Street Food Vending
(2) Catering
(3) Manufacturing / Processing
(4) Storage & Transport
(5) Retail & Distribution
Advanced courses and certification are for State & Central Licensed food business. Duration of each course is 8 hours. Course are: –
(1) Catering
(2) Manufacturing / Processing,
(3) Storage & Transport
(4) Retail & Distribution
Special course have been developed for high risk food business or The food business which require special attention. Duration of special course is 8-12 hours. Spread over 1-2 days.
Course are: –
(1) Milk & Milk Products
(2) Meat & Poultry
(3) Fish & Sea Food
(4) Packaged Water
(5) Bakery (Level 1 & Level 2 )
(6) Edible Oil and Fat
(7) Health Supplement
Other Training –
Awareness Session on HACCP, FSMS, FSSC ( 8 Hours)
Awareness Session on Lab Testing for Various Business ( 8 Hours)
COVID19 Guideline for Food Handlers
*All these training are currently happening in Online Mode and Using GoToMeeting Platform
Why This Training is Important –
Mandatory Training and Certification of 'Food Safety Supervisors' for FBO
Kindly refer to our communication regarding FSSAI mandatory training and certification of food Safety supervisors

As you may be aware  that In pursuance to section 16(3)(h) of Food Safety and Standards Act, 2006, the Food Safety Standards Authority of India(FSSAI) has to provide certification and training programs in food safety and standards for persons who are involved in food business whether as food business operators, employees or otherwise. Also list of mandatory courses as notified by FSSAI, as per category of licensed FBO is given in enclosures.
The food Authority, in its 24th meeting dated 21.09.2017 approved in principle the guidelines of Food Safety Training and Certification that envisage, inter-alia, that all food business having either central licence or state licence should have trained and certified Food Safety Supervisor, for every 25 food handlers or part thereof in each of their premises. These supervisors would carry periodic training to all food handlers in their premises and maintain records of food safety audit and inspections. Kindly see the attachments as enclosed for official order.

Accordingly all business operators are advised to nominate at least one food safety supervisor, for every 25 food handlers, in their each of their premises and get them trained under FSSAI-FoSTaC by 31st December 2018 through training partners empanelled by FSSAI.                                                                                                
In compliance to the above EP Infoways Pvt Ltd, which is the authorized licensed training partner under FSSAI request you to please send the nomination in the number as required by Act for the FOSTAC training Program, to the undersigned at the earliest.
For Any Query Mail – fostac@epinfoways.com
Mandatory Notifications from FSSAI –
http://epinfoways.com/wp-content/uploads/2020/03/1-FSSAI-Letter_FBOs_Compulsory-Training_section-16-3H-1.pdf
http://epinfoways.com/wp-content/uploads/2020/03/2-FSSAI-Letter_FBOs_Training_08_02_2018-1.pdf
Download Training Details – Institute Brochure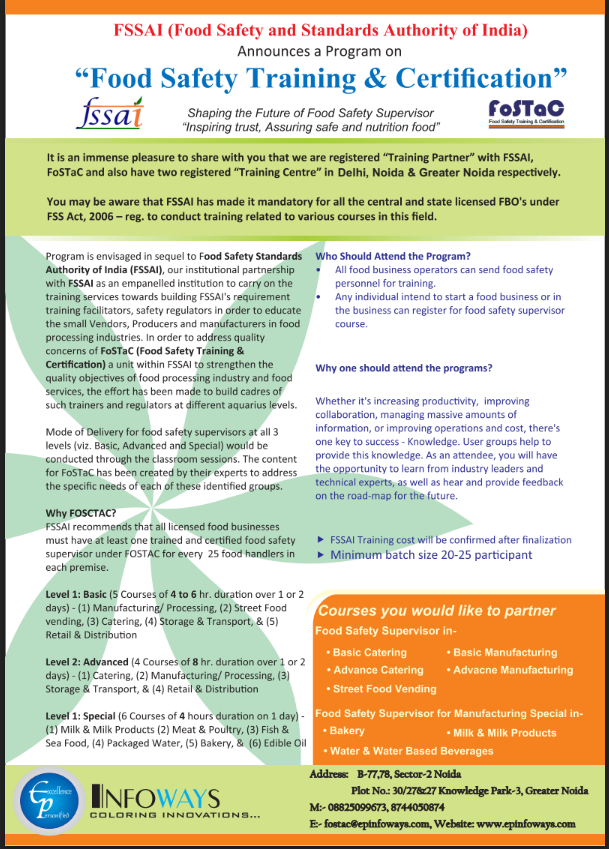 For Any Query/Question
Sachin Jain
M-tech IITR
Director & Co-Founder
EP INFOWAYS
EFOS.in
Phone – +91-8744050874 
sachin@epinfoways.com