All FBOs having Central License or State License should have at least one trained and certified Food Safety Supervisor for every 25 food handlers or part thereof on all their premises. These supervisors should in turn carry out periodic onsite training of all food handlers at least on quarterly basis and maintain record thereof for food safety audit and
inspections. Food handlers in all petty food business that are registered should be trained and certified.
Program Overview
FoSTAC Basic Catering- L1 (3 contact hours)- Virtual Training + COVID19 Guidelines
Training At the end of the course, learners will be able to:
• Why it's part of your job to produce clean, safe food. The importance of personal hygiene.
• What to look for inside and outside the building that can cause contamination. How to prevent contamination from equipment, tools, and utensils.
• How to safely handle and inspect raw materials and ingredients and how to document those inspections
• FSSAI standards & requirements; Demonstrate learnings of Schedule-IV Virtual Training Courses: In view of COVID-19 pandemic
IMPORTANCE OF FOOD SAFETY SUPERVISOR CERTIFICATE:
Per Order of Food Safety and Standard Authority of India, Section 16(3)h of the Food Safety and Standards Act, 2006 dated 6th October 2017, Training becomes mandatory for All Central and State Licensed FBO (Food Business Operator ) under Food Safety Supervisor Act 2006 and so it is accorded under the Central License or State License to have at least one trained Food Safety Supervisor for a minimum of 25 food handling staff.
Course is Relevant for –
Hospitality Professionals
Hotel/Restaurant Professionals
Hotel Management Students
Food Safety, Quality , Technologist Professionals
Catering , Cafe and related professional
Date and Time for Training , You can choose any Slots –
28th Oct 11AM to 4 PM
Fee – Rs. 500 Only Inclusive of Tax
For Advance Catering  
29th Oct 2020 – 10 AM – 5 PM 
Fee – Rs. 1000 Only Inclusive of Tax 
For Hard Copy , whatsapp https://wa.me/919648842336 and pay Rs. 100 Extra.or Pay here

Fee – Rs. 500 Only Inclusive of Tax
Rs. 100 Pay for Hard Copy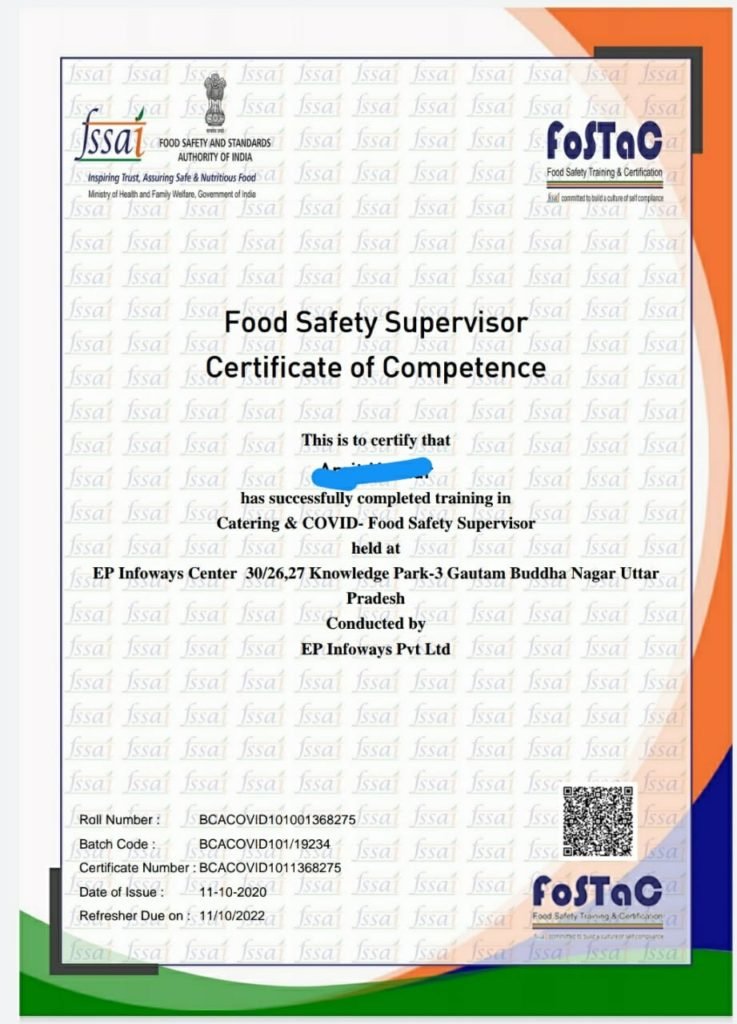 Fee – Rs. 500 Only Inclusive of Tax
Fee for Advance Training – Rs. 1000 

Rs. 100 Pay for Hard Copy