Govt MSME Certification – "FOOD PROCESSING (Entrepreneurship Development Program)
Food Safety Training and Certification from MSME, Govt. of India!!
MSME Technology Development Centre is offering an online training courses –
Who Should Attend?:-
Government, Private & Commercial Testing Labs,Food Testing & Analytic Services, Food Microbiology, Food Chemistry, Mycotoxin & Toxicology, Food DNA Analysis,Next Generation Sequencing & Genomics,Food Science, Engineering & Technology, Food Research & New Product Development, Food Production, Processing & Packaging, Food Transport & Distribution Logistics, Industrial Scale Agricultural & Farming, High Pressure Processing Services, Entrepreneurs, Students, Graduates, Postgraduates etc.
After successful completion of the training programme Government of India certificate will be awarded to participate.
The name and photo associated with your Google Account will be recorded when you upload files and submit this form. Your email address is not part of your response.
Course 1. "FOOD PROCESSING (Entrepreneurship Development Program).
Course Details
Duration: 5 Days
Course Date: 8th to 12th January, 2021
Timing: 06:00 pm to 07:30 pm
Course Contents:
● DAY1; Overview of Indian food industry, Future & opportunity generation of idea.
● DAY2; Trends in preservation, Packaging, FSSAI Rules, Sales and marketing.
● DAY3; 20+ Business opportunities in details.
● DAY4; Preparing project report for bak and investors, How to present in front of banker/Investor, Govt. schemes and subsidy.
● DAY5; Market research and survey, How to find the best suitable business idea for you (According to SWOT of business, Geography and Entrepreneur).
Registration Fees: 1,180/- per participant (Inclusive of GST)
Register Now – https://forms.gle/Yuxnn5HPnmZcmSZm6
Hard Copy of Certificate – Rs. 200 Only
Sample Certificate –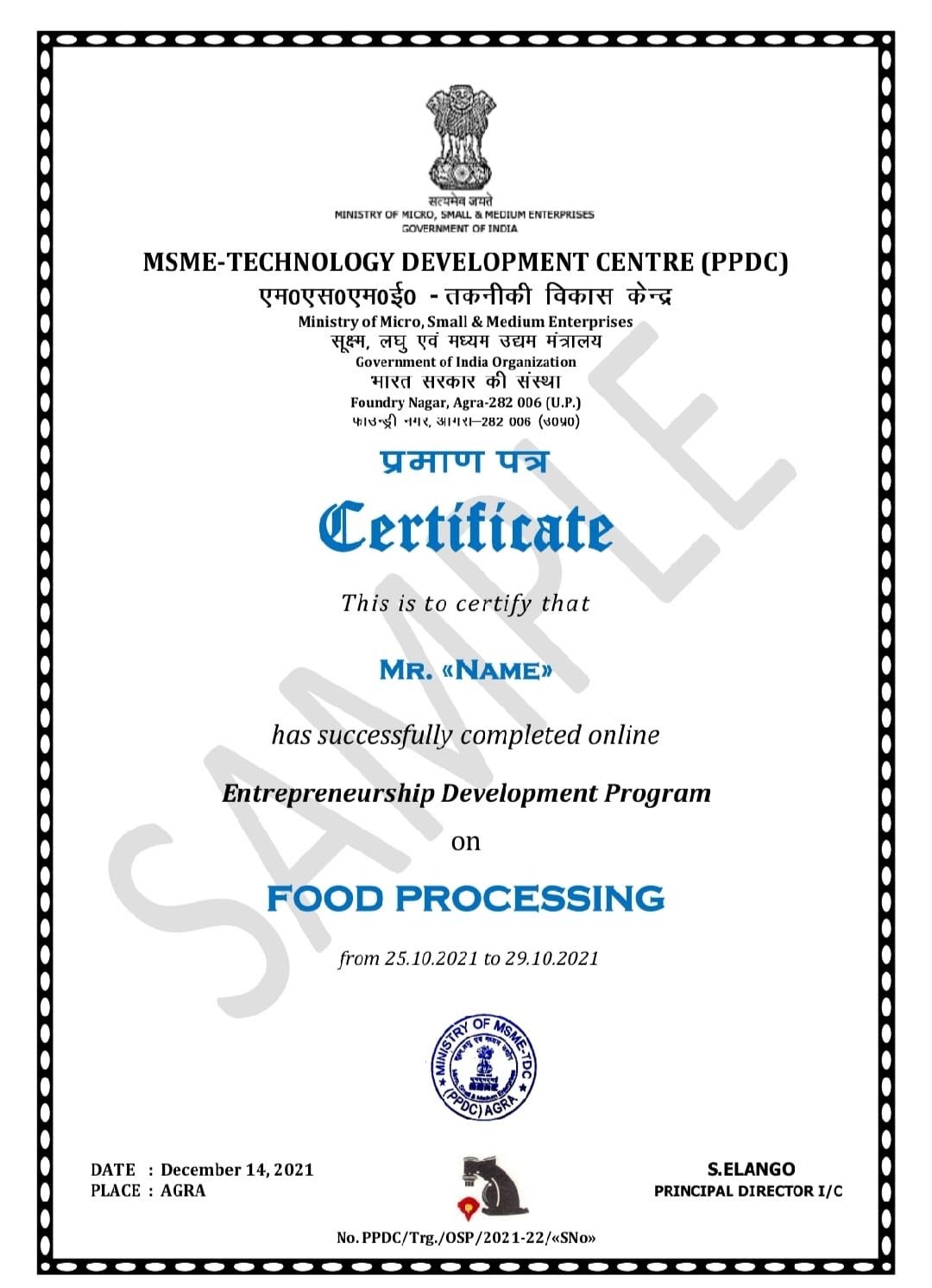 Register Now – https://forms.gle/Yuxnn5HPnmZcmSZm6
For Any Query Call – Nutan – 85859 14807  or Noman Ahmed – 93115 89844